From Sea Turtle:
Loving your photos as I'm currently planning my first visit to Barcelona and my first Mediterranean cruise for Oct 2011.
Hotel recommendations (Barcelona) from you and others are welcome.
Thanks for your share, Funnel!
Sea Turtle, I moved the answer to the Europe-forum. Hope it is OK!
I am sure you will have a nice cruise in the Med in October. :beach:
I prefer to sail the Med in October as the temperature is not too high. Perfect for visiting ancient sites. There is usually rather high temperature and high humidity in the summer.
The weather has been good during my cruises there, but of course October is October and it can be some rain and wind.
About hotels in Barcelona I can give you my impressions about the three I have stayed at.
Hotel Ramblas is located directly on La Rambla, the street were "everything†happens.
The hotel was OK but not excellent in any way. Avoid the single rooms as they seem not to have windows. If you are sensitive to noise there may be better places to stay than directly on La Rambla (the action is going on all night and until 4-5AM).
Hotel Gran Ronda is located a few minutes walk from La Rambla. The street is not as busy in the night/morning as La Rambla. The hotel felt a bit more modern than Hotel Rambla but had an indoor atrium that made you hear the noise from the bar in all rooms, again until early morning… :whistle:
Hotel Fira Palace is located close to Placa Espana, the magic Fountain and Palau Nacional. You can walk to La Rambla but it takes about 20-30 minutes. Of course there are buses and subway. There are not many restaurants around the hotel.
The hotel itself was very nice, big reception area and big rooms (especially for being in an European city). No noise from the street outside.
The lobby at Fira Palace: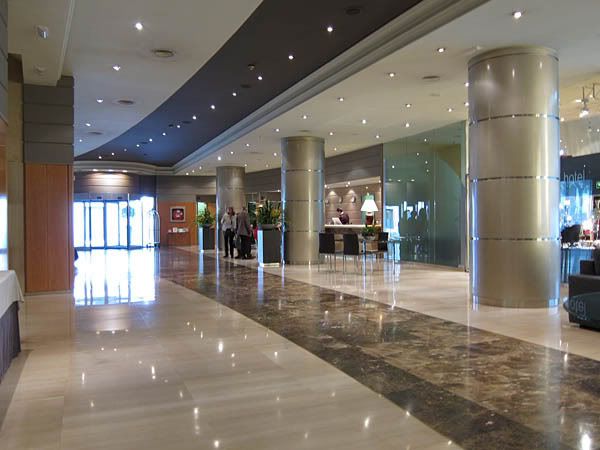 A standard room (about 100 euro per night if booked early, excl breakfast):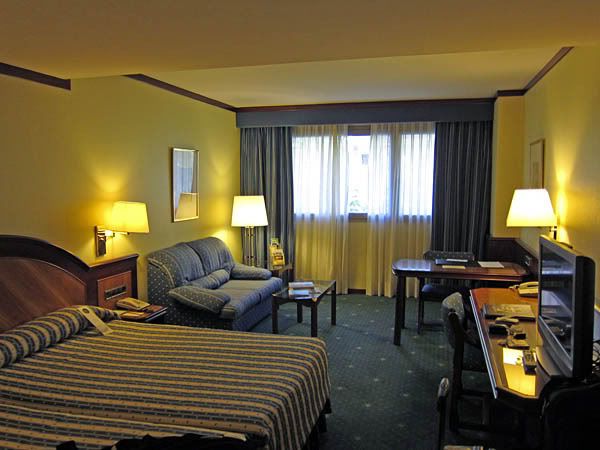 Next time I go to Barcelona I will probably stay at Hotel Fira Palace again. I really liked that hotel and it was good value for money, even though it was some distance from La Rambla. There were some restaurants only a 10-15 minute walk from the hotel (on the street Paral-lel).
For a first time visitor I think a hotel closer to La Rambla is better. :scratch:
Hopefully there are other Cruise @ddicts that have stayed at some good hotels in Barcelona that can give you advices.
What is your itinerary?
/Erik