I was working in the glass-room a little while ago, putting zinc framing around the latest piece.

Up until now, I had framed pieces with zinc by cutting mitered corners. Then I took those very large and thick paperclips (cut into large "U"s) and using them as the hangers, I straddled them over the zinc, with a small length going down into the soldier lines in the glass. I had soldiered them onto the zinc frame.

Making mitered cuts in 1/2 or 3/4 zinc was no easy task.

On a recent trip to the stained glass shop for supplies I had mentioned this and they said.. "why take all that time to do it, when you are only going to cover the join with soldier anyway?" That made sense to me..

They told me that they used straight cuts. I asked if this meant they attached the hangers onto the sides of the zinc, but they said that they actually soldiered the hanger INTO the open end of the zinc.

It is working very well, and sure is easier. So thought I would share. As pictures are worth 1000 words.. I took photos that may help.



Here is a photo of the corner of the zinc frame. although the photo does not make it clear, the side piece of zinc with that open end is level at the top with the top piece of zinc.
​
note the opening in the side zinc.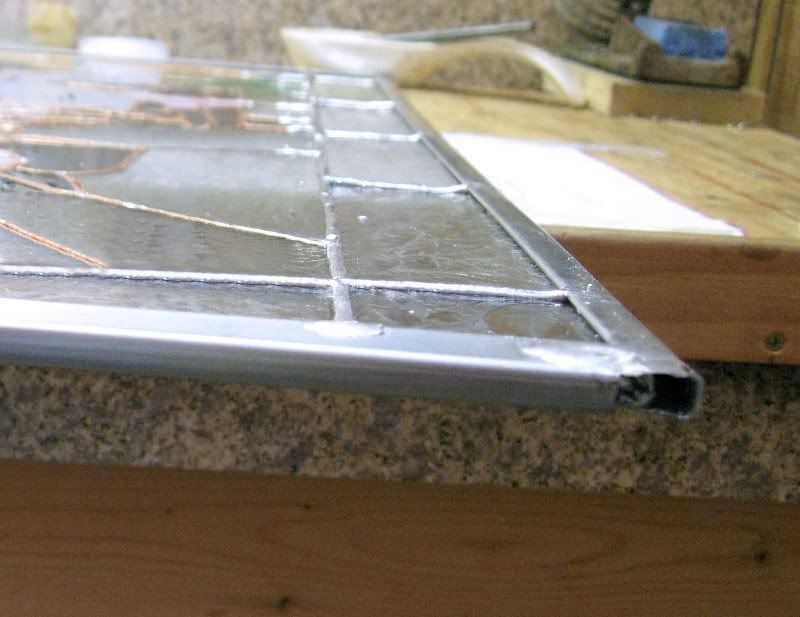 ​



This is a shot from the top, with the opening on the right of the picture. Take no notice of the soldiering so far.. this is only my spot soldiering.. I will clean it up.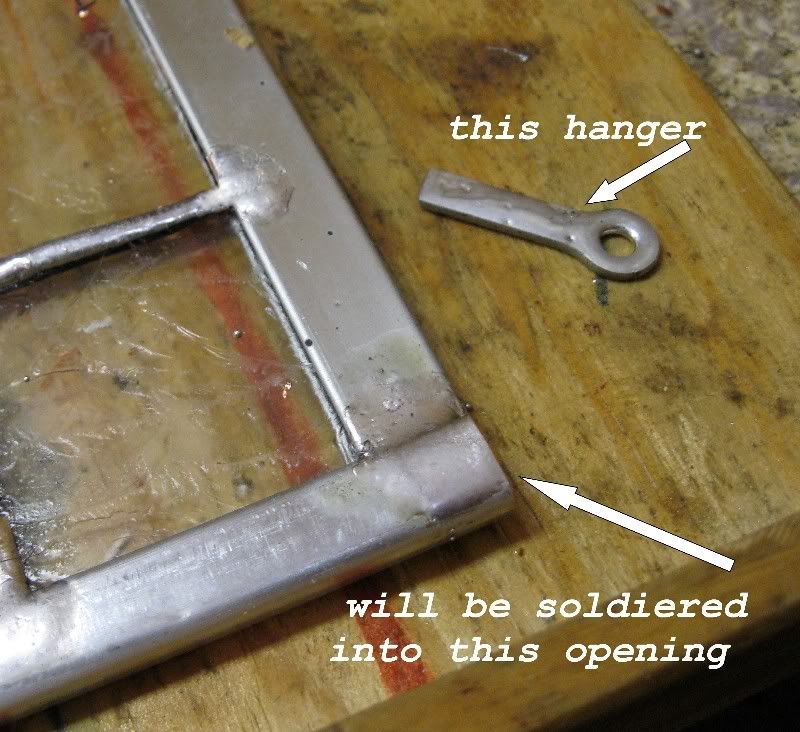 ​
​



This piece has about 130 pieces in it, and quite a few are rather small..cutting, grinding and foiling all these has done the usual number on my fingers.. lots of small cuts, and NO nails! OK.. ONE nail.. the one in the picture





The finished piece is 17 X 27 inches.


​
I have made this before, but never for myself.. and after working all those pieces.. I am not sure that I will ever do one for us


Note the china spoon holder being used as the flux brush holder.


This is where I am so far...
​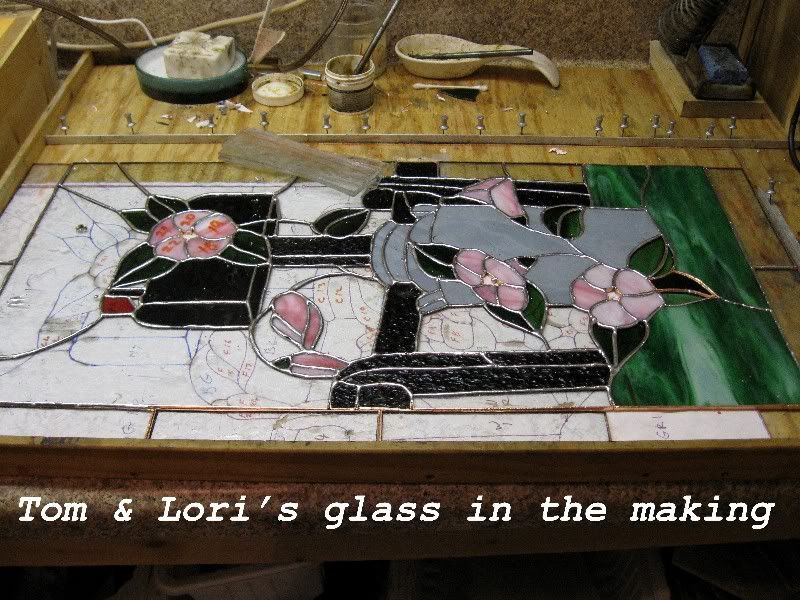 ​

it is a mailbox mounted in an old milk can, next to a wood fence. I will post the finished picture here once it is done.



IT IS DONE!

It ended up at 17 X 28 ...
I still want to polish it up some more, but I am done for the day.. and want to take advantage of Einstein's Happy Hour.
And the funny thing about glass. The most expensive glass in that piece is the gray Milk Can glass. It does not show up in the picture, but the glass is lightly textured and mottled, so it has that look of these old cans, faded splotches in spots.. Every time I do this piece I do not want to part with it.
​







And another Tip that is not only for people working in stained glass.. but this tip is for everyone.

Years ago the gentlemen used to have "Sleeve Braces" I remember my uncle has a set that were gold. They were an elacistized band that they would slip on their arms over their dress shirtsleeves. They slid it up the arm a bit so that it held the loose or slack part of the sleeve away from the wrist.

This way they did not drag the sleeve through whatever they were doing. This was an age where you wrote letters, and you dipped a pen in ink. It was all too easy to drag a sleeve in the still wet writing.
My aunty found they worked just as well for women.

Now I have not seen any of them in many years, but I found the next best thing.
I bought some of the larger sized elasticized hair (bunches) bands, and while I am working on the glass, I slip them on my arms and keep my sleeves dry when grinding.

They are very handy.
Just make sure that you buy them big enough.. or you will cut off the circulation
​
,,
Last edited: