Yesterday, while I had appointments, Arami and her Grandparents went to the Phoenix Zoo. The temperatures are climbing here again, so I suggested they go yesterday instead of today. Then, I dropped Pucci off at Jean's and met up with Arami, Brucie and Sharon so we could go to Scottsdale Fashion Square and have an informal dinner in the Food Court.
No problem parking the SUV, and when we got to ground level outside the garage, there was a police vehicle with lights flashing, officers...and a dog used in crisis intervention incidents. Being a service dog, I first asked if we could pet the dog - well, Fozzie (his name) loves attention (sounds like someone else I know). Turns out the police were holding a benefit for Special Olympics and Fozzie was there for PR. Arami had to pet Fozzie, and the professional photographer who was there, had a field day photographing the two! My photos of them...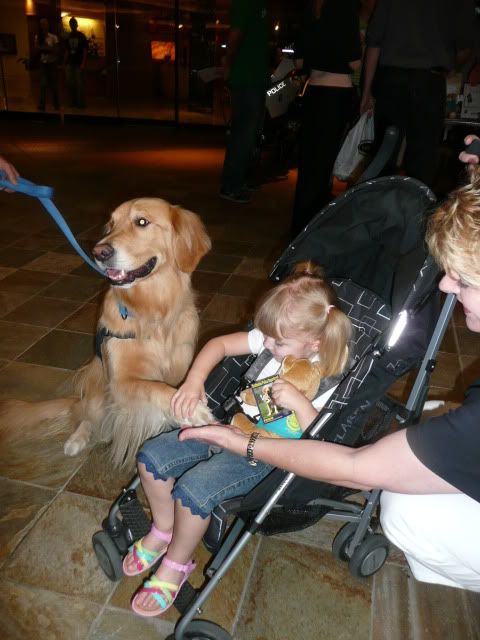 I was reading a bio of Fozzie...and it seems he and I are related. Fozzie's sister's name is my last name!!:scratch:
Having seen the dog, it took quite a lot of ingenuity and tap-dancing the rest of the evening to explain to Arami why that dog was there and Pucci wasn't!!! Pucci this, Pucci that, Pucci, Pucci, Pucci.
After a very pleasant dinner, Sharon wanted to go to Macy's. Although I hadn't been to this end of the Mall for a number of years, I was sure I knew which direction to go. Of course, Macy's was the opposite direction.
Once in the store (finally), Arami insisted on holding onto MY hand. I was flattered. Needless to say, Arami will have a new wardrobe for Christmas. I DID give her one of the dresses and told her it was from Pucci - it had cute little dogs and hearts on it.
After the great shopping spree, I went back to their hotel for a few minutes...with Pucci still an Arami topic of conversation.
This morning, Pucci left to go to his puppy-sitters. Here are a couple of photos taken minutes before he left. As usual, he wasn't happy to leave me...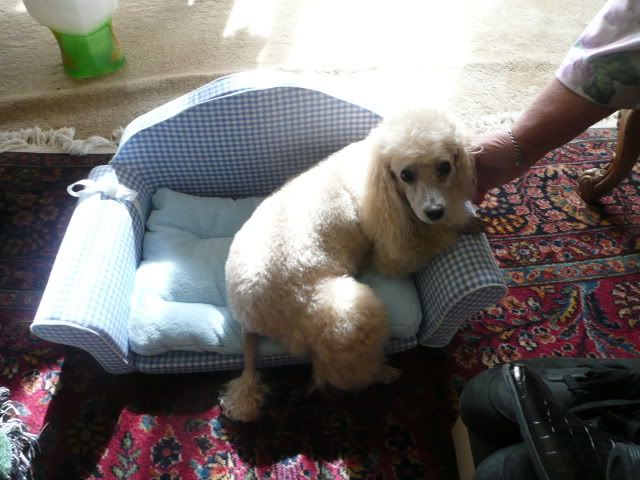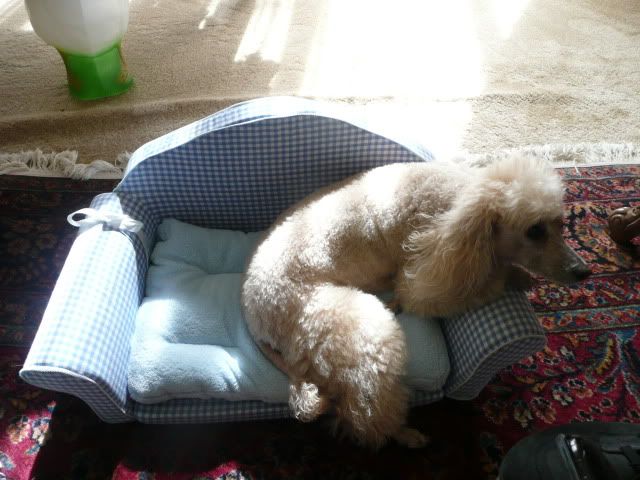 I had more appointments today, and when I met up with Sharon, Bruce and Arami, I was informed that ALL DAY, Arami just couldn't understand why Pucci wasn't there and why she couldn't see him. We had to patiently and gently explain that Pucci had gone on vacation and was visiting 4 doggie and 3 kitty friends. She still wasn't happy.
She is remarkably well-behaved. I took them to a nice local restaurant - 2 senior couples dining at the table next to ours complimented Arami on how well behaved she was.
After dinner, Sharon wanted to go to Target to get some supplies for Arami. So we all headed there - of course, Arami wanting to hold my hand. Sharon placed her in the cart's baby seat, and Bruce prepared to push the cart as usual. Welllllll - NO! She wanted Aunt Mary Ann to push the cart, so poor Bruce backed off and went and sat down.
When we went back to our vehicles, I waited for Arami to be strapped in to her car seat, then went over to say good-bye. It was a VERY difficult moment - until she announced I was her Granddaughter!!!!!!! I couldn't help but feel flattered.
It was hard to say Adios to Sharon and Bruce as well. It was wonderful to see them.
Now, without Pucci, and seeing my friends leave, it's rather empty around here.
Last edited: