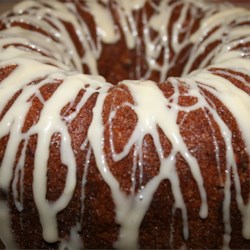 Ingredients:
4 eggs
2 cupswhite sugar
1 cupvegetable oil
2 cupsall-purpose flour
2 teaspoonsground cinnamon
1 teaspoonsalt
2 teaspoonsbaking powder
1 teaspoonbaking soda
1 (8 ounce) cancrushed pineapple, drained
1 cupchopped walnuts
2 cupsgrated zucchini
2 teaspoonsvanilla extract
1 cupconfectioners' sugar
2 tablespoonsmilk
Directions
1.Preheat oven to 350 degrees F (175 degrees C). Grease and flour a tube pan.
2.Sift together flour, cinnamon, salt, baking powder, and baking soda on to a piece of waxed paper.
3.In a large bowl, beat eggs and sugar until light colored. Mix in oil. Add sifted ingredients to egg mixture, and beat for 2 minutes. Stir in pineapple, chopped nuts, vanilla, and zucchini. Mix thoroughly. Pour batter into prepared pan.
4.Bake for 80 minutes, or until tester inserted in the center of the cake comes out clean. Cool for 30 minutes.
5.To Make Glaze: In a small bowl, combine the confectioners' sugar and the milk. When cake has cooled, pour glaze over cake.